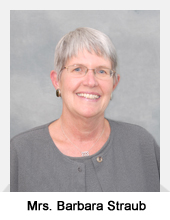 Blacksburg resident Barbara Ann Boyle Straub is a long-time teacher and former Peace Corps member. She has worked for school systems in Pennsylvania and Michigan and, most recently, Montgomery County from which she retired after 37 service in education. Her tenure in Montgomery County began in 1974 and she was employed at both Christiansburg Primary and Harding Avenue Schools. She has also served as a certified trainer for the AIMS Education Foundation at Fresno Pacific University in Fresno, California, conducting workshops in math and science education for elementary teachers.
Straub attended Indiana University of Pennsylvania in Indiana, Pennsylvania, where she received her bachelor's degree in elementary education. Following a stint in the Peace Corps in Guatemala, she continued her education at Michigan State University, where she earned a master's degree in education while teaching full-time in the East Lansing, Michigan public schools.
Straub's family includes two children, Erik and Ann, and her husband, Joseph. She also recently welcomed her first grandchild, Liam. In addition to the NRCC board, she also serves as a member of the Luther Memorial Lutheran Church Council and has membership in the Montgomery County Retired Teachers' Association.