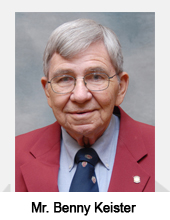 Benny Keister is a retired teacher, coach and guidance counselor with a master's degree in guidance counseling from Radford University.
New to New River Community College's board in 2011, Keister is also active in several community organizations as a member of the Masonic lodge, president of the Randolph House board, a member of the "Kids on Track" board and a lifetime member of the Pulaski County Lifesaving Crew. Additionally, Keister served as a member of the Virginia House of Delegates from 2000 to 2005.
His family includes his son, Bo, and grandsons Hayden and Seth. When he's not working in the community, Keister can often be found traveling or fishing.