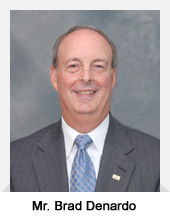 Brad Denardo, of Blacksburg, is the President and CEO of National Bank of Blacksburg. He joined the bank in 1983 as Vice President of Loans.
Denardo's ties to Blacksburg are many, including graduating with his bachelor's degree in finance from Virginia Tech in 1975 and being an avid follower of Virginia Tech sports. He is also a graduate of the Virginia Bankers School of Bank Management and the Louisiana State University Graduate School of Banking.
In addition to his work with the National Bank of Blacksburg, Denardo also sits on the board of Montgomery Regional Hospital and on the board and investment committee of MBC Development Corporation. He also serves on the finance committee and is assistant treasurer for Blacksburg United Methodist Church.
Denardo's wife, Christine, is retired from Montgomery County Schools and they have a son, Travis, and a daughter, Brittany.