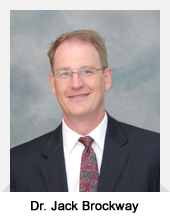 Dr. Jack W. Brockway, III is an associate professor of physics at Radford University. Prior to his work at RU, Brockway was an assistant professor of physics at State University of New York at Oswego.
At RU, Brockway teaches introductory astronomy courses and a number of physics courses including modern physics, advanced mechanics, and stellar astrophysics. He is also the director of the Selu Observatory in Radford, which involves maintaining and operating the observatory's 14.5 inch telescope, helping with public events, and assisting students with variable star photometry research.
Brockway received his BS in physics from The Citadel in Charleston, SC and his doctorates in physics from the University of North Carolina at Greensboro and Wake Forest University. His current research interests include variable star photometry, astroparticle physics in the early universe, and physics education.
In addition to his teaching, research, and other academic work at Radford University, Brockway participates in a number of community and service activities including assisting with "Public Nights" at the Selu Observatory and offering presentations and lectures on stellar evolution and the solar system.
He currently resides in Radford with his wife and two daughters and when his busy schedule allows, can be found enjoying a round of golf.