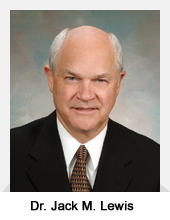 Jack M. Lewis grew up on a farm in southern Georgia. As a teenager, he never thought about going to college...until one day, his high school physics teacher took him to Georgia Southern College (now Georgia Southern University) for a visit.
It was there that he met his wife, Dr. Mary Ann Pollack Lewis, and began his educational career.
The Lewises live in Blacksburg. They have three sons – John, Stephen, and Charlie – all of whom are graduates of the U.S. Naval Academy. They also have eight beautiful grandchildren!
Dr. Lewis enjoys golf, playing the piano, and motorcycling almost as much as spoiling his grandchildren--but not quite!