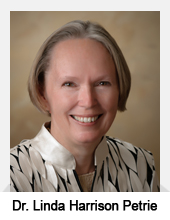 Career teacher and Floyd resident Dr. Linda Harrison Petrie has taught students in a number of capacities since 1968. She's been applying her teaching talents in the Floyd County School system since 1984. Among the many positions she's held in Floyd are teacher for students with learning disabilities and/or emotional disturbance at Floyd County High School, gifted and talented resource teacher/program coordinator and director of instruction and technology. She recently retired from her position as director of instruction, assessment and federal programs for Floyd County Schools.
Petrie's academic background includes a bachelor's degree in elementary and special education from Southern Connecticut State University, a master's degree in education from Central Connecticut State University, and a doctoral degree in administration and supervision of special education from Virginia Tech.
Along with her participation on the NRCC board, Petrie is vice president of the Floyd Lions club and public relations chair of the Floyd Rotary Club. She is also the treasurer of the board of directors for the Floyd County Chamber of Commerce, and a past member of the executive board of directors for Blue Ridge Public Television, among others.
Presently, Petrie may be found teaching as an adjunct professor for the University of Virginia at the Roanoke Higher Education Center. She teaches several courses including curriculum and instruction, classroom management, exceptional learners and multiple intelligences.
Her family includes her husband, Lawrence S. Petrie, and sons Craig and Bill Knapp. She also has four grandchildren Cory, Gwendalyn, Abigail and Leah.