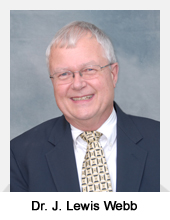 When not involved in New River Community College Board functions, one might find Dr. J. Lewis Webb serving on one of several other community organizations.
Webb, a retired dentist, makes his home in Narrows and is a 23-year member of the Giles County School Board. Additionally, Webb is a member of the Narrows Lions Club, Leading Lights organization selection committee, and joins fellow NRCC board member Brad Denardo on the National Bank of Blacksburg's board of directors.
Webb holds a Bachelor of Arts from the University of Virginia and a Doctor of Dental Surgery degree from the Medical College of Virginia at Virginia Commonwealth University.
Webb's family includes 2010 Virginia Teacher of the Year Catherine Webb and children Jay, Suzanne and Chris. When Webb finds a spare moment to relax, he enjoys woodworking and spending time with his grandchildren.