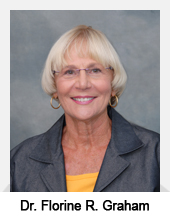 Radford resident Dr. Florine Graham has a long professional history in education. Graham served as both a professor of English and director of college relations while at NRCC. During her time as director of college relations, Graham was instrumental in helping to create the NRCC Educational Foundation.
After NRCC, Graham went on to serve as associate vice president for administration and special projects at George Mason University and as an economic development officer at Radford University. Most recently, she was the president and CEO of Virginia Economic Bridge in Radford.
Graham's education includes time spent studying strategic planning at the U.S. Army War College and leadership development at Oxford University. She received her bachelor's and master's degrees in English from Radford University, and went on to obtain her Doctor of Education in community college administration from Virginia Tech.
In addition to serving on the NRCC board, Graham is director emeritus of the NRCC Educational Foundation. She is also president of the Radford Lamplighters, Friends of the Radford Public Library, a director on the Radford Industrial Development Authority and the Advisory Board of the First Bank of Virginia in Radford. She has also served as president of the Women's Resource Center of the New River Valley.
Graham is married to Dr. Robert F. Graham, a retired dentist. They are the parents of Rob and Suzanne Graham who are married to Kris Graham and Darren Minarik, all of Radford. The Grahams have five grandchildren: Logan, Sophie, Harper, Graham, and Madison.