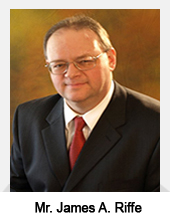 James A. Riffe, Jr. of Narrows is the general manager and licensed funeral director for  Riffe's Funeral Service, Inc., in Narrows, and is also owner and creative director of AdVantage CineMedia, LLC, a part-time HD video and digital audio production agency based in Giles County. 
A 1988 graduate of Radford University with a Bachelor's degree in telecommunications, he returned home to Riffe's Funeral Service in 2002 after a 17-year career in broadcast and cable production, creative services and marketing. Following an internship, Riffe earned an associate degree from Cincinnati College of Mortuary Science in September 2004 and became a Virginia-licensed funeral service provider in December of that year.
He is a two-time past-president of the Blue Ridge Funeral Directors Association and a past board member of the Virginia Funeral Directors Association.  He is also a member of Glen Lyn Baptist Church. He and his wife, Joyce, a teacher at Narrows Elementary/Middle School, are the parents of one son, Tyler.