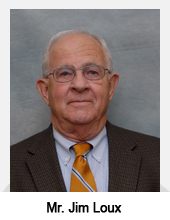 Recent NRCC board addition Jim Loux, of Pulaski County, is president of Allegheny Logistics Group, located at the New River Valley Airport in Dublin. In conjunction with his work there, he is a member of the National Customs Brokers and Freight Forwarders Association of America.
Loux holds a bachelor's degree from the University of Massachusetts Amherst in contract administration management.
His family includes his wife, Dr. Janice Buss, his daughter and three grandchildren. Outside work, his diverse interests include hunting, fishing, reading and a particular love for wine making.