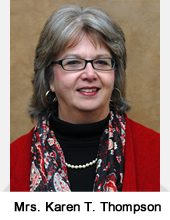 Karen Thompson of Floyd is the administrator of the Blue Ridge Nursing Center in Stuart, where she is responsible for the daily operations of the long-term, skilled and dementia care facility.
Thompson has a bachelor of science degree in business administration from Radford University and has been a licensed nursing home administrator in Virginia since 1985.
Prior to her work at Blue Ridge Nursing Home, she served as the town manager and zoning administrator for the Town of Floyd. She has also held administrative positions at Wheatland Retirement Communities and Skyline Manor Nursing Home.
In addition to her service on the NRCC board, Thompson is also member of the Montgomery County and Floyd County Chamber of Commerce boards, the Tri-Area Community Health Board of Directors and the board of directors for the Floyd County Merchants and Businessmen's Association.
She is married to R. J. Thompson.