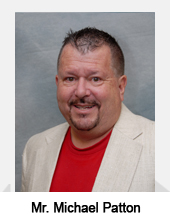 Floyd County resident Michael Patton is currently an intake eligibility worker for the Montgomery County Department of Social Services.
Patton also serves his community as a member of the Floyd Town Council and as chair of the New River Valley Planning District.
His family includes his wife, Janice Yearout-Patton, daughter Erin and son-in-law Matthew, son Elliott and daughter-in-law Ladonna, and grandson Malachi. When not at work in the community, Patton can be found enjoying a game of racquetball or furthering his interest in antiques.