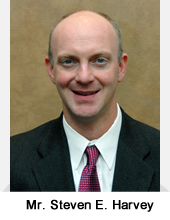 Radford City resident Steven Harvey holds a bachelor of science degree from Radford University, where he majored in Biology and Chemistry and minored in Mathematics.
Harvey has been employed by TechLab, Inc., a local medical diagnostic products manufacturer, for the past 18 years. He directs manufacturing operations and facilities at Techlab's Radford location.
He has enjoyed volunteering with Big Brothers and Big Sisters of the New River Valley and Relay for Life of Pulaski and Radford.
His family includes his wife, Vanessa, and their daughters, Adrienne and Sarah. Harvey's interests include mountain biking, kayaking and traveling.