Inauguration of NRCC's president set
Aug 31 2018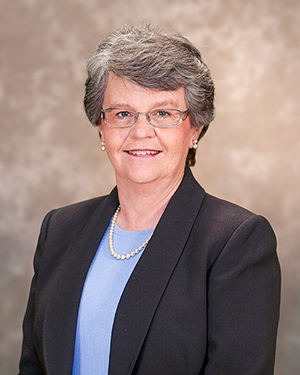 The installation of New River Community College's first female president in the college's 49 year history will be held Friday, September 14, at 11 a.m. in 117 Edwards Hall at the college in Dublin.
Dr. Glenn DuBois, chancellor of Virginia's Community College announced the appointment of Dr. Patricia B. Huber as NRCC's new president in April 2017. She began her duties in July 2017.
Inaugurations for institutions in the Virginia Community College System are held each time a new president is appointed, usually 12-16 months into a presidency.
With 25 years of full-time employment at NRCC, Dr. Huber came to the presidency after serving as vice president for instruction and student services for 10 years. She also held other roles including interim vice president for instruction and student services, dean of arts and sciences, assistant division chair for the division of arts and sciences, and instructor/assistant professor of English. She earned a Ph.D. in community college leadership from Old Dominion University in 2006 while serving as NRCC's dean of arts and sciences.
She earned teaching credentials and a bachelor's degree in English from Emory and Henry College in 1976, then became a high school teacher in Smyth and Wythe Counties. During that time she earned a master's degree in secondary education from West Virginia University. After a move to Pulaski in 1987, she taught full-time at Pulaski County High School and part-time at NRCC in dual enrollment and evening programs.
She resides in Pulaski with her husband, Peter. She enjoys being a member of the Pulaski Rotary Club and participating in community activities. She also serves on various committees and the leadership council of First United Methodist Church and the board of directors and scholarship committee for the Community Foundation of the New River Valley.
"The inauguration represents not only a recognition of Dr. Huber's presidency, but also an opportunity to celebrate New River Community College and its importance to the community," says Dr. Mark Rowh, vice president for workforce development and external relations. Delegates from colleges and universities across the Commonwealth will be attending along with other guests. The event is open to the public.
For event details visit the website: http://www.nr.edu/inauguration.