Mountain Highway and Dixie Bluegrass Boys to perform at NRCC jamboree this month
Nov 05 2018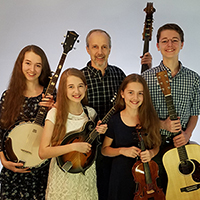 The music of Mountain Highway and Dixie Bluegrass Boys will be featured during New River Community College's Fiddle, Banjo and Dance Club jamboree on Saturday, Nov. 10. Music will begin at 6 p.m. in 117 Edwards Hall at NRCC in Dublin.
Mountain Highway is a young family band that performs traditional bluegrass music. Previous performances include Doyle Lawson & Quicksilver Fest in Denton, N.C.; HoustonFest in Galax; The Floyd Country Store; and The Earle Theatre in Mt. Airy, N.C. The band's musical selection includes songs from Flatt & Scruggs, Bill Monroe and Ralph Stanley. The four sibling singers play banjo, fiddle, mandolin and guitar, while their father plays upright bass.
The Dixie Bluegrass Boys is a traditional style group that has been playing for eleven years in the Virginia and North Carolina area. The group performs old-time, country and bluegrass music for dances and concerts. The band members are Jackson Cunningham, guitar, mandolin and vocals; Jeff Michael, fiddle; Ramona Church, five string banjo, guitar and vocals; and Jerry Steinberg, bass fiddle.
Corporate sponsors of the jamborees include Anderson Audiology, Dublin; August Jewelers & Boutique, Inc.; Duncan Ford – Lincoln – Mazda, Blacksburg; Estes Auto & Truck Parts Inc., Pilot; First Community Bank, Pulaski; Gregory Seeding and Landscaping Company, Pulaski; King's Tire Service, Pulaski; Martin's Pharmacy, Pulaski; Pepsi Cola Bottling Co., Dublin; Pulaski Patriot, Pulaski; Shoney's Restaurant, Dublin; and Southern Furniture Warehouse, Radford.
The doors open at 5 p.m. for the show. There is no charge for admission; however, donations will be accepted to help pay expenses for the musicians. The jamborees are held the second Saturday of each month, October through April at NRCC, a Crooked Road affiliated venue.
More information about the NRCC Fiddle, Banjo and Dance Club is available from Tim Jones at 540-674-3625, and online at www.nr.edu/fiddle.