Eric Gress to perform at NRCC jamboree this month
Oct 02 2018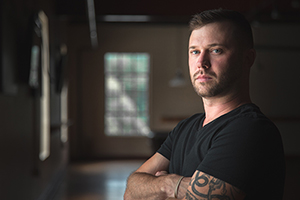 Eric Gress, country singer and songwriter, will perform for New River Community College's Fiddle, Banjo and Dance Club Jamboree on Saturday, October 13. Music will begin at 6 p.m. in 117 Edwards Hall at NRCC in Dublin.
Gress is a solo country artist from Pulaski. He began his music career in 2016 and released his EP in January 2017. He has performed as a supporting act to artists such as Luke Combs, Tyler Farr, Travis Tritt, Jason Michael Carroll, Sammy Kershaw and Josh Thompson.
Corporate sponsors of the jamborees include Anderson Audiology, Dublin; August Jewelers & Boutique, Inc.; Duncan Ford – Lincoln – Mazda, Blacksburg; Estes Auto & Truck Parts Inc., Pilot; First Community Bank, Pulaski; Gregory Seeding and Landscaping Company, Pulaski; King's Tire Service, Pulaski; Pepsi Cola Bottling Co., Dublin; Pulaski Patriot, Pulaski; Shoney's Restaurant, Dublin; Southern Furniture Warehouse, Radford; and Sunshine Tours, Dublin.
The doors open at 5 p.m. for the show. There is no charge for admission; however, donations will be accepted to help pay expenses for the musicians. The jamborees are held the second Saturday of each month, October through April at NRCC, a Crooked Road affiliated venue.
More information about the NRCC Fiddle, Banjo and Dance Club is available from Tim Jones at 540-674-3625, and online at www.nr.edu/fiddle.