IMPORTANT INFORMATION:
Wednesday, December 11, 2019: Due to inclement weather, NRCC (Dublin and NRV Mall Site) is closed. Day classes ONLY have been cancelled.
Engineering Design Technology
Engineering Design Technology
Unmanned Air and Ground System Technology
Mechanical Design
Individual/Team Projects
Special Projects
Queen Anne's Revenge (QAR)
SSBN-X Concept Design
Virginia Class - Submarine
Project Quotes
Admissions/Records Website
Lead Instructor/Program Head/Advisor
Biography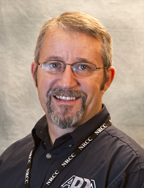 Jeff Levy
Engineering Design Technology and Program Head
Division of Business and Technologies
Office: New River Mall Site, Room 5A
Phone: 540-674-3600, Ext: 4362
E-mail: jlevy@nr.edu
Former Sgt. In United States Air Force
Graduated from Radford University with a Bachelor of Science in Design
Worked in Industry as Architectural, Structural, Civil CAD Tech and Designer
Taught CAD/Drafting and Design for 7 years at Pulaski County Technical Center
Was the Lead T&I Teacher in Drafting/CAD for Virginia's Department of Education from 2000 to 2003
Chaired committee that developed competencies for all secondary drafting programs in the state of Virginia
In 2002 was cited for the creation of a nationally recognized CAD/Drafting curriculum which was piloted in 2003-2004 in over 500 high schools throughout the United States by Project Lead the Way
With the strong support of the college administration, by 2003 was able to build his T&I CAD program to the largest in the state of Virginia
In 2003 completed requirements for the first high school curriculum to be certified by the ADDA Intl. (American Design & Drafting Association) in the state of Virginia
In 2004 was asked to head the Eastern Regional Curriculum Certification Board
In 2004 was inducted into the ADDA Hall of Honors
In 2004 took over the CAD program at New River Community College
In 2006 NRCC became an official testing site for ADDA's national certification exam
In 2007, along with Carlotta Eaton, head of the I.T. department at New River, started the first game technology degree program offered at any college in the state of Virginia
In 2007 was elected to the National Board of Directors for the ADDA
In 2007 headed up a team to re-write the National Architectural Certification Exam for the ADDA Intl.
In 2007 worked with ACE, American Council of Education, in evaluating Military Courses for the U.S. Navy SEA BEAS in Port Hueneme, California.
In 2008 oversaw the concept Designs of 2 UAV (Unmanned Air Vehicle) Designs by the Advanced 3D Modeling Class at New River Community College in conjunction with several organizations/corporations around the U.S.
In 2009 was elected to the position of LEAD CAD/Drafting instructor for the Virginia Community College System
In 2009 was appointed to the position of Director of Architecture for the United States by ADDA Intl.
In 2009 worked with the ACE program again to evaluate military courses for U.S. Army in Washington, D.C.
In 2009 was elected along with New River Community College to ADDA Intl.'s Hall of Honors
In 2009 the New River's CAD Dept. was selected to be an educational partner with Phoenix Integration, a company that develops design software for UAV defense contractors around the country and the globe and was granted over a quarter of a million dollars worth of design software that students will be trained on in Spring of 2010.
In 2009 oversaw the second set of UAV concept designs that were completed by the graduating class in Advanced 3D modeling. Projects were sent to over 30 companies for evaluation and are being reviewed by both NASA and the SKUNKWORKS a division of LOCKHEED MARTIN (responsible for the development of f117 stealth Fighter and the SR71 Blackbird) in Palmdale, California.
2010-2015:
- Chaired and Co-Chaired the VCCS Engineering and Applied Technologies Peer Groups
- Has overseen and guided the department in expansion in the areas of Additive Manufacturing and 3D with the purchasing of 12 new 3D printers of varying types of materials and technologies
- Has expanded the scope of design in aeronautics to include Computational Fluid Dynamics, Finite Element Analysis
- Purchased and incorporated the use of an FAA approved flight simulator to validate the designs of both a 5th Generation forward swept wing Unmanned Air Superiority Fighter as well as Quad EDF (Electric Ducted Fan) Drone
- Has incorporated students from the Engineering Transfer program into 2 semester team projects from 2013-2015
- Has overseen the design and development of two US Navy reverse engineering projects that resulted in the project development of a full scale Virginia Class Nuclear Submarine which has been used by Navy Contractors. As well as the development of the SSBNX Ohio Class Replacement Submarine prototype
- 2014-2015 headed the AHS (American Helicopter Society) Unmanned Drone package delivery international contest project
- Was part of an Advanced Manufacturing Team at NRCC that implemented the development of the new Advanced Manufacturing Cell in Martin Hall that includes robotics, 3D printing, Vacuum Forming and many other new technologies


Partnered with Stratasys Corporation to have them 3D print the body of the "New River Harrier" drone. The drone body is approximately 4 feet by 3 feet in size

- Was awarded a Million Dollar" in kind" grant from the SEIMENS Corporation
- 2015 developed two new degree programs: Engineering Design Technology and Architectural and Engineering Design that replaced the Computer Aided Design and Architecture Specialization Degrees
2015 Implemented Certification and Credentialing for students graduating from program

Autodesk Software – both user and professional levels:

AutoCAD
Inventor Professional
Revit
3ds Max

Certificate in Engineering Design
As of May of 2017, we have awarded119 industry certifications, degrees and Career Certificates
2015 – Oversaw the planning and addition of the Additive and Advanced Manufacturing Lab at the STEM center of the New River Community College Mall Site
2016 – Represented New River Community College in the development of Unmanned Systems Curriculum for the Virginia Community College System
2017 - Co-wrote Unmanned Systems UMS107 Course at New River Community College
2017 – Chaired the Engineering and Applied Technologies Conference in Richmond, VA for the VCCS
Became lead faculty member/representative for New River Community College for AUVSI (Association for Unmanned System Vehicles International) chapter
2017 - Attended International AUVSI Conference in Dallas, TX
2017 – Attended GenCyber/NSA/NSF National Conference in San Antonio, TX

Became GenCyber Camp Director for two summer Camps
Awarded two NSA/NSF Grants for GenCyber Camps offered for rising 6th – 12th grade girls
Oversaw the first Advanced GenCyber camp to be funded by the NSF/NSA in the country

2017 – Appointed to the VCCS Chancellor's task force to examine, explore, and articulate how the timeless mission of our community colleges can best be focused to ensure that individuals, families, businesses and communities thrive in a 21st century Virginia
Engineering Design Technology Contact Information
General questions and requests about Engineering Design Technology should be directed to Jeff Levy 1-866-462-6722, extension 4362, or (540) 674-3600, extension 4362.
You may also email jlevy@nr.edu.
Engineering Design Technology Faculty
Call (540) 674-3600 or toll-free 1-866-462-6722, then you will be prompted to add the extension number to reach any employee.
HAVE QUESTIONS ABOUT NRCC?
NRCC IN DUBLIN:
5251 College Drive
Dublin, VA 24084
(540) 674-3600
Toll Free: 866-462-6722
Fax: (540) 674-3642
MALL SITE:
782 New River Road NW, Suite 400
Christiansburg, VA 24073
(540) 674-3610
Fax: (540) 381-7128